3D printing technology has reached a new dimension as the first habitable houses are being printed. Many wonder whether this technology will disrupt the housing market. Sure, it shows great promise, but is it ready to make designers' fantasies come true?
What if you could design your own house? Choose every part of it, from the foundation to the interior decoration? Then on top of that, make it cheaper and faster than the traditional way. Wouldn't that be amazing?
Before we get too carried away, however, we have to remember that 3D printing might not quite be the revolution we are all dreaming about. Instead of design freedom, this technology is more likely to be used for social purposes.
An emerging new tech
The 3D printing technology has steadily evolved these last few years. So far, it has mostly been used to model small plastic objects as we have seen in various videos. We only realize now its full potential as startups find more and more varied uses. This can be anything from beautiful jewelry to living organs, the applications are infinite. Recently, the housing industry also has seen an opportunity to get involved and perhaps disrupt the market.
The future has never seemed so close. The first habitable 3D printed house in Nantes, France, now has its occupants. It was built in two days and it came out 20% cheaper than a similarly sized house. This has set a precedent and more are planned to be built by the end of the year in Eindhoven, Netherlands. Project Milestone will erect five futuristic looking houses with an enormous 3D printer.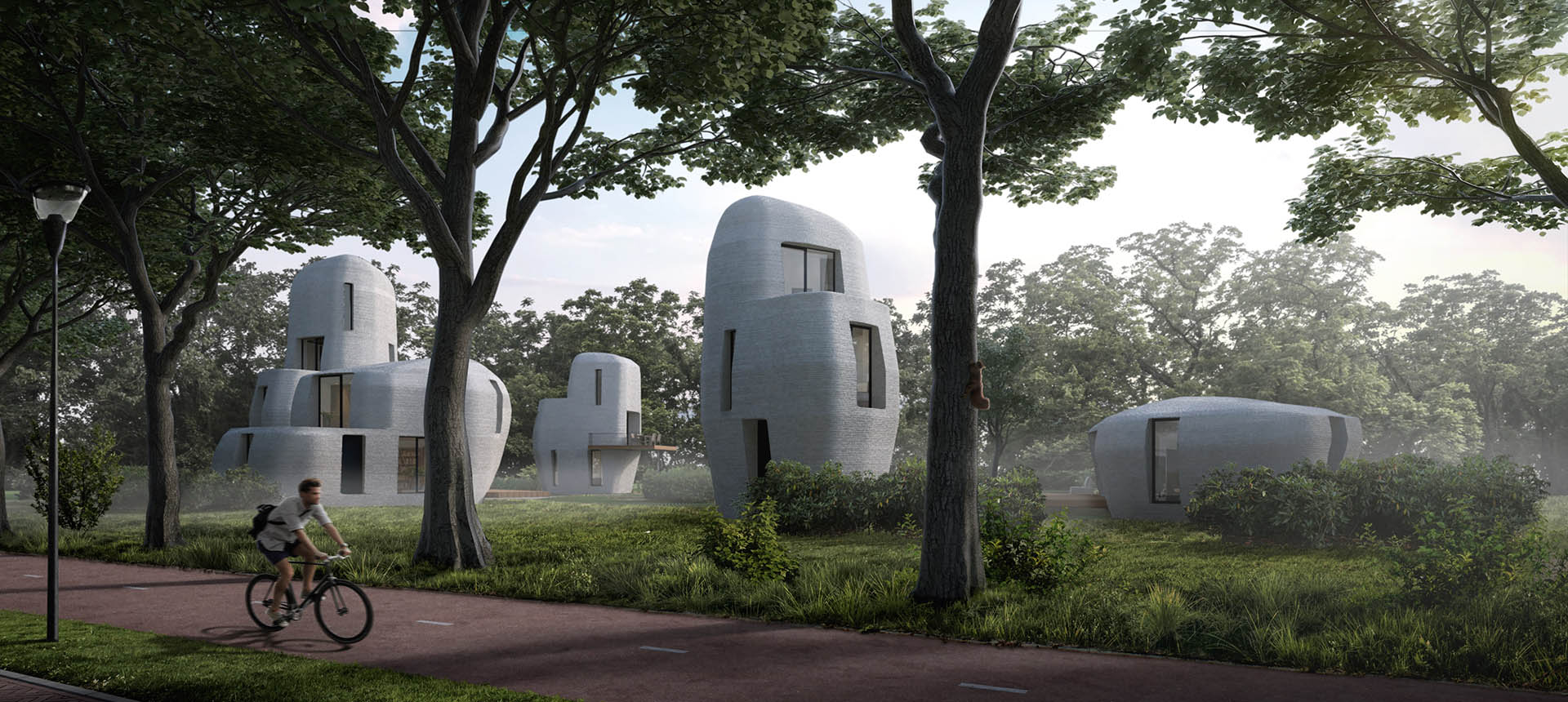 source: Houben Van Mierlo, architect
The Van Wijnen's company, which is responsible for this project, believes that this technology will become mainstream in the next five years. Will it be that fast? Is the market ready for it? No one can predict it, but it is a fact that innovation is booming. Creative startups and powerful companies all around the world are competing to build the best 3D printer: the fastest, the biggest and the most accurate machine.
The American company ICON has built a printer capable of printing a one-story house in less than 24 hours for only $4000. ICON expects to go even faster. At full speed, they claim that they could print walls, roof, and floors in less than 12 hours. Although you would still need to add windows, electric cables, a heating system, plumbing, paint, and so on. It is still pretty amazing.
sources: New Story Charity
A solution to the housing crisis
This brilliant technology is exciting in more ways than one. It could be a solution to the shortage of bricklayers. It could apply cement more accurately and more efficiently which should have a positive impact on the environment. It could be the solution to the coming global housing crisis due to overpopulation and housing inflation.
According to McKinsey Global Institute's report, one-third of the world's urban population won't be able to afford decent housing by 2025. They estimate the necessary investment in construction would rise up to 9 to 11 trillion dollars. Thanks to 3D printing, costs could be reduced drastically.
Social purposes
It might not have been your first thought, but this housing tech could mean a roof over everyone's head. The technology is ready to print numerous identical houses in a row in a short period and for almost nothing. It could build cheap homes for people who cannot afford it today. It could lead to updated favelas. While these might still be small houses, in poor neighborhoods, people could at least get decent concrete walls, floors and a ceiling. So instead of a super tool to create buildings from a crazy designer's imagination, this technology could be used more accurately for normalized shelters.
There are already two projects going in this direction: Homed from Framlab company in New York, and the nonprofit New Story who plans to print one hundred residences in El Salvador.
Homed, source: Business Insinder
Homed specifically targets New York City homelessness. The goal of this project is to house every homeless person in an individual shelter. They plan to attach small rooms to unused vertical spaces on New York building facades. Each room would be partially 3D printed in polycarbonate and bioplastic, then cladded with wood for aesthetics, and then hung on top of each other by a metal structure. They would combine smart technologies and modern insulation to ensure safety and comfort.
source : Farmlab
New Story is a nonprofit working on sheltering every human in decent conditions. They are well aware of housing prices and the severe conditions in which many poor people are living. New Story worked with ICON to build a 3D printer able to print a home in one day. Yes, the same one mentioned above in this article. The goal is to reduce the cost of housing construction so that poor communities can afford to live in decent homes. They are already working in El Salvador, and they wish to go further and "to democratize the technology, for other nonprofits and governments to scale around the world."
sources: New Story Charity
To take a step further
This impressive project utilizes the 3D printing technology as its best: printing significant small identical pieces in a short period. At this point, you may think: " We are finally going to put an end to homelessness." Will this project be the first of many ? Will it trigger a wave of social housing programs across the world?
It will probably depend on its success. Because it is still somewhat new, every 3D printed home must be checked thoroughly to make sure they respect the regulations. How safe is it? How long will it last? How precise will the finishing be? What about electricity, heating, and plumbing? Many important questions remain unanswered.
source: 3dprint.com
One thing is sure though: this technology will continue to evolve. Van Gurp, the manager in charge of the Milestone project, said: "We are already looking to take a step further, and people will be able to design their own homes and then print them out. People will be able to make their homes suit them, personalize them, and make them more aesthetically pleasing."
Vision and ambition, these are traits that change the world. It is not for tomorrow, unfortunately. These companies are mostly working with cement because it is convenient and it allows different kinds of shape that are not possible with conventional construction techniques. However, people might prefer nobler materials than cement, like stone and wood which can already be printed in a smaller scale. How long before they can satisfy people's wishes? After all, the 3D printing technology works with almost all types of materials such as ceramic, glass, and plastic. It is not unrealistic to imagine a printer that can switch from one medium to another.
Will architects lose their jobs?
Our designers at Drawbotics are looking forward to printing their own homes as we are experts in 3D modeling. However, programs that help you design your home have existed for a long time now, but people are still looking for architects when it comes to actually building it, and for good reasons. It requires knowledge and talent, but also a sharp eye for managing space efficiently. This technology won't be the end of the architect profession. On the contrary, architects will specialize themselves in the 3D printing technology and learn how to make the best of it.
source: Drawbotics
Maybe they will design modules for each room in many different styles and shapes. Customers would be welcome to choose different modules according to their budget, space, and desires to compose their home. Imagine now this program coupled with an Ikea-like furniture company, to let you customize your home from the foundation to the last painting on the wall. Select, drag and drop to your house project. The program would check compatibilities between selected modules, verify every mathematical and physical issue, every connection and finishing details. It would correct everything. And then you would just have to click "send to print." The very next week a big printer would be installed and your house would be printed in a day or two.
We are talking Science-Fiction here. It won't happen anytime soon. But if that is the direction the top tech housing companies are willing to go in, the future sounds pretty exciting. In the meantime, we all should keep an eye on this amazing technology.